There is a cool new site called The Trading Post.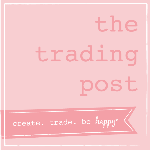 The site was created to help women promote their businesses/shops/blogs through trading their creative talents. Who doesn't need help doing that? And, to make it even better, it is free! Perfect for anyone needing a little boost to their blog or business.
You send Jessie an email telling her that you would like to trade something you have made; either from your blog, business or shop. You send her the product (so she can write you a great review) and she will set you up with your own feature post and advertise for you....for free (have I mentioned that already?).
On the day you are featured, others (this could be anyone, including you if it's not your product) can offer things they have made as trades for your item by leaving a comment on the post featuring your product. At the end of the day, YOU get to choose who you would like to trade with out of those who have offered trades. A sure way to get something you will like.
Once the trader and tradee have sent their products, the trade is complete! Then you'll probably have to sign up for another round because you'll have so much fun trading and choosing who to trade with. For more information and details on how to get started, click here.
Jessie has other great things on her site including live auctions on Fridays where products are donated and then bid on. When the auction ends, you keep the products you win and Jessie donates 100% of the profit to a family in need or a non-profit organization. To read more about these auctions click here.
Whether you are looking to promote your business/blog/shop or just looking to get some cool handmade items, this is the place for you.
Here are some items that have been traded in the past:
You are going to love our new sponsor The Trading Post. I hope you check them
out
!
***AND I have two tutorials coming this week....stay with me. We've had family in town, been battling the sickies, and the small one is teething. It's been a rough week for the craftiness but there has been some; don't you worry
.
Until tomorrow!