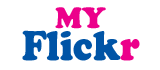 I recently created a Flickr account for this blog. I'm not sure if any of you have used any of my tutorials, but I hope that eventually you will find some of them useful and try them out. If you do (or already have), I would love to see what you made/make. I would love to see how you have improved my ideas, I would love to see your fabric choices, your cute models, your creativity...the list goes on. If you have or are planning to use a tutorial or idea please take a moment and upload a picture or two showing what you've done. You can click the link above or on the left sidebar. It really would mean a lot to me!

If there is some interest and some of you actually add to the pool I would love to feature your creations on my blog. I'm thinking a monthly (or twice monthly) "Flickr Feature" where I spotlight creations from the Homestitched Flickr pool. With links back to your blog if you have one, of course.

Other news...it is quite possible that the name of this blog will change in the near future. When I created this blog I searched 'Homestitched' on every search engine imaginable and nothing came up. BUT we all know how these things go and now it seems that there is a homestitched.com out there. It probably won't ever be a problem but I want to keep my options open in case I ever decide to expand this blog into something more (like making/selling patterns). I have no idea what I will change it to or if I even will, but just wanted to give you the heads up.
On to the real question of the day....
Is it safe to use thread after something like this happens? I honestly don't know.
Before I caught her, she managed to tangle just about every thread in my drawer. Nice.
Happy Tuesday!
This post was sponsored by: