The Thanks:
I just have to say you guys are so kind/wonderful. When I posted about
helping my husband
with one of his classes we were hoping 10 or 15 of you would donate a few minutes and take the survey! We had a much bigger response that we could have hoped for. You guys are so awesome! I have the best readers. Don't worry, I'll make good on my promise...if you know what I mean. And you probably only do if you took the survey and left me a comment. He got enough results for the survey, so no need to take it anymore.
The Apology:
I'm so sorry for the lack of posting. I have tutorials coming. Last week was sort of horrible. I had to take care of some things that have arisen due to the broken leg and it took up quite a bit of my time. Thank goodness it is over and we can finally move on. Less than 2 weeks with the cast! Phew.
BUT....
I am sewing and have quite a few tutorials in the works. I have been busy busy busy working on my project for
Extreme Makeover Fabric Edition (EMFE)
! I can't wait to show it to you guys. It's been great to work on things that are a little out of my comfort zone. If you don't know about the competition go read up on it
HERE
. It's hosted by two fabulous ladies (
here
, and
here
). It's all about using fabric from your stash. It's been great for me, because I have quite the collection (
proof here
). We'll have new projects every week and the contestant that uses the most fabric automatically moves on. Then it's up to the readers to vote on the rest.
I have another tutorial for you this week, but it won't be up till Friday (sooner if I finish EMFE stuff early). If you missed my tutorial yesterday, be sure to head over to
Naptime Crafters HERE
to check it out. It's a cute and easy Jersey Dress you can make out of things you probably already have on hand.
Oh, and don't forget to enter the
Benzie Felt giveaway
! It is amazing felt and lots of it too.
You guys are great!
This post was sponsored by :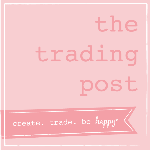 create, trade, be happy